Life's A Rollercoaster Ride Of Delight, Fight, Flight & Fright, Right?
The things I am pondering, linking, liking and lurking around...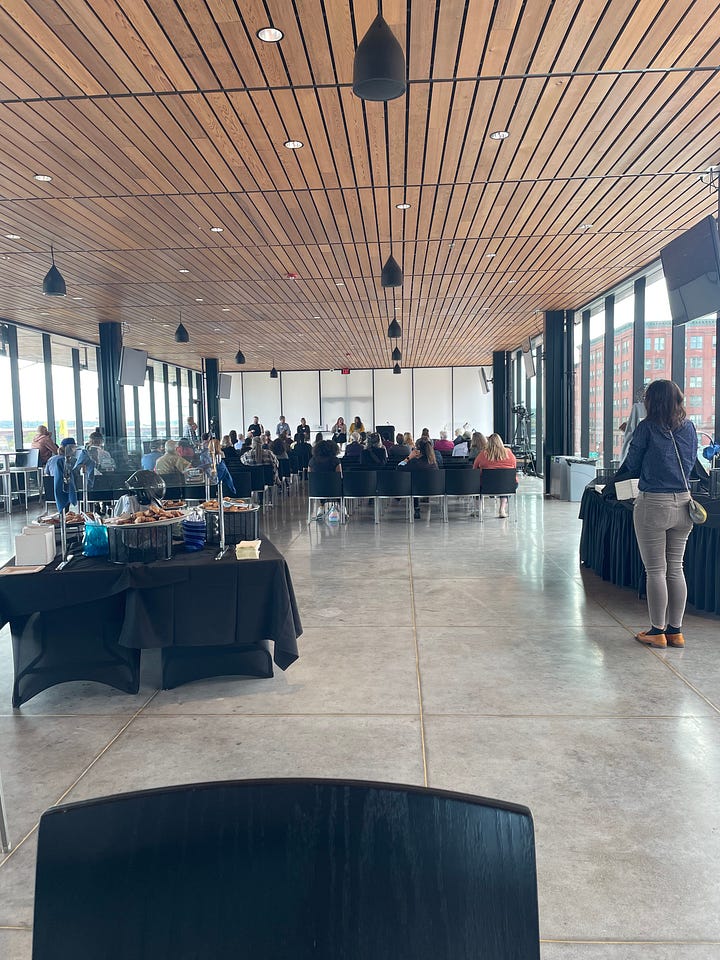 Greetings from FilmNorth's Filmmaker Forum in Minneapolis-St.Paul where I will be speaking with Effie Brown in an hour or so…. Or rather did, and am now rejoicing and recovering from. I hate panels. And one person lectures and masterclasses leave me feeling a bit self-centered. I love the conversation format with two folks with both similarities and differences chat about the situation film is in. I hope festivals and forums do more of it.
So what is the best way to move us all forward? It is always that question, and probably always will be, and should be. Should I just concentrate on making good films? Believe it or not it is where 85% of my time goes to. Making them and making sure they get seen. Granted 85% of that time is in working on the script and then packaging, and that is the labor our industry doesn't seem to value and certainly won't pay for. Did you read my post on How The Film Industry Does Not Value Development. Back in my early days on Substack (so like nine months ago) it was one of my most read and liked posts. Producers don't get paid for the most valuable part of the job. When do we say enough is enough? Although we weren't speaking development, we were asking that question. I think the answer is now. We stop. We demand they do as much as we do, even if they are giving us money. I will write more of this later but this is the weekend. I am just pondering. That's what this post is another batch of links and ponders. A survey of some of the space my heads been to this past week and perhaps the clues to where I am going next week.
---
The Cycle Of Bad To Better To Good To Worse (But Then Perhaps Boomeranging Back To The Way It Once Was): I remember back when there was never anything on that I wanted to watch. And then there were maybe one or two shows a year, but it was seasonal. Then streaming kicked in and I was giddy. The year that I went to work at Amazon Studios I sincerely felt that Transparent, S1 was the best "Indie Film" of the year. I was excited with the possibility the future held.  I was really excited that series audiences were getting tuned to reject commercials and desire quality. And then the firehose went full throttle and the virus of mediocrity spread. And now the commercials are back as the rule of the land. I try to take solace in the fact that for every action there is an equal and opposite reaction.
I also find peace in the fact that we all live in the realm of unintended consequences. Do you think it is just the capitalist tendency to follow the smack dealer model and give it away for free until you establish a habit and get them hooked? Do you think that the streaming platforms might have thought to underprice the commercial-free experience just so we'd grow accustomed and they could then demand extra ducats to keep that playbook? Or perhaps it wasn't so much a designed strategy from the beginning, as perhaps now allowing the greed to blind them to the fox they just let in. You tell me, but if you are selling ads don't you have to reveal the data of engagement? If Amazon is putting ads on everything, don't they have to reveal all the data to the ad buyers and perchance might that allow for that information to flow down stream?
---
I Have Only Wanted To Make Great Films: It has taken me my entire career to really accept that everything is not only in constant change, but our industry is always in accelerated change. The only sound creative practice, business plan, and career strategy accepts that. I was looking for something the other day, and instead found my enthusiastic prognosis on the future of streaming that I wrote for The Hollywood Reporter in 2014.  I find it funny and well worth a read. Things could have been different. Is it possible to still find a way within the current system to make great movies? If it is not, then what is the next move on the chessboard? Is it to step off the chessboard and build a better chessboard. We know that yesterday's leaders got fooled by today's big bosses, but what about us? Are we getting fooled again too?
---
The Strike and The Dept Of Good Ideas: Everyone was telling me that this was the week that the Strike was going to get solved. Did I miss something? Is there something that happened that did not get reported? Will the unions settle for wages and conditions and not address the lack of transparency and share of success that the industry is a whole needs to be addressed? Is there something better that could be done? And if so, how long is that going to take and how are we to survive until then? Will tomorrow get us all back to work?

There's a reason why we don't all chase interim agreements during a strike. Most of us are people not huge companies. The Interim Agreement is 70 pages long and there are already 1200 folks in front of you.  Producer Rob Paris "has proposed that in order to get scripts in front of talent, producers sign a short document attesting that they are not affiliated to an AMPTP company (Alliance of Motion Pictures and Television Producers, which represents the studios and streamers in contract talks with the unions); they will not to sell to any company affiliated to AMPTP until the strike is over; and they will attain signatory status and sign the interim agreement."
https://www.screendaily.com/news/indie-producers-at-tiff-voice-packaging-fears-amid-sag-aftra-interim-agreement-logjam/5185859.article
---
The Dept Of Things I Am Contemplating Writing Posts About But Haven't Started On Yet:
The SOP Film Release Plan: Although it doesn't seem like many films get picked up for distribution on the festival circuit much these days, but that still is Plan A for most filmmakers. Documentaries have been the canary in the coal mine for much of the industry, and with only one doc film being acquired at Sundance and one (so far) at TIFF, perhaps filmmakers will now wake up and start planning to produce their own distribution from the start. Still though, if you are still caught in the matrix, and you are not quite ready to do like Barbie and walk out into the real world, how do you approach securing distribution? A friend recently shared this checklist that Distribution Advocates put together a few years back. It's handy dandy for sure, but 50 years into this indie thing and there is not standardized "Produce Your Own Distro" business plan?! Sure every film requires a bespoke fit, but still we know what the dance moves are, even if we have our own order.  What do you think is taking us so long? And if you know folks who have already written this, please share so I don't waste more of my time>

The New Festival Model:
Keep reading with a 7-day free trial
Subscribe to Hope For Film to keep reading this post and get 7 days of free access to the full post archives.